Image 01

Image 02

Image 03

Image 04

Image 05

Image 06
Mario's History
O

nce arriving in San Francisco from Italy, in 1971 Mario and Liliana bought "Bohemian Cigar Store" which began as a small smoke shop. During this time it was a place where all the Italian's in the neighborhood would come to have their espresso and spend hours playing card games and filling the entire establishment up with their cigar smoke. In the beginning, Liliana would make sandwiches at home and bring them down to Mario's customers, which evolved years later into buying a small toaster oven which allowed her to make 1-2 focaccia sandwiches per hour.
In 1975 Paolo Crismani, the son of Mario and Liliana, bought the business from his parents and decided to switch up the atmosphere by putting in a foosball and pinball machine where all the college kids would come down, socialize and compete in tournaments. It was not until 1983 when the bakers pride oven was installed which allowed Mario's to produce more focaccia sandwiches, which is still a staple today.
A common question is "Where are the cigars?" Mario's stopped selling cigars in 1992 when San Francisco passed the law that bans cigarettes / tobacco products being sold with food. We choose to keep the name up because it symbolizes history and how Mario's has evolved to what you see today.
Daniella and Dario Crismani, Paolo and Debbie's children, began working part time and learning the ropes of the business in 2012. Today the brother sister team are third generation owners, they cook all the food with the same recipes their grandparents have passed down and continue to keep the magic of Mario's alive.
We are so thankful for all our patrons for the last 50 years with the love and support of this establishment and keeping Mario and Liliana's dreams alive.
~ Ciao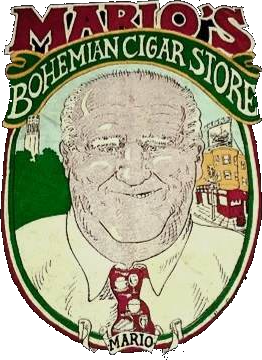 Gallery